Video Review of Silk Painting with Jill Kennedy

I was delighted to get my copy of this wonderful video by guru Jill Kennedy. Excited as a little puppy, I popped it into my computer [eMac] and clicked Play.
Jill Kennedy's been around the silk painting industry for many years, and her wealth of knowledge and experience is shared in easy-to-understand language, guiding us step-by-step, through all the projects on the video.
145 minutes of easy-to-follow techniques including water, alcohol, antispread, thickener, discharge and of course – our old faithful, gutta [pronounced 'gootah'].
If you want to learn fantastic tips and techniques, or you know of anyone else remotely interested in painting on silk, this video will be the best buy of the year.
PS – I've been painting on silk since 1980 and there were some tips in here which I was thrilled to learn – now, what do they say about old dogs? :-)
Price : $US29.95 : UK 19.95 Pound sterling : Euro 29.95
2007 © Studio galli : images © Jill Kennedy & studio galli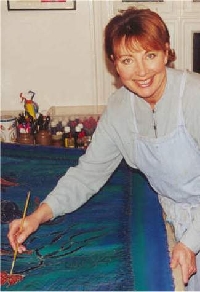 Where to buy
Europe
*     *     *     *
ENGLAND
Rainbow Silks
85 High Street,
Great Missinden,
Buckinghamshire, England
+44 (0)1494 862111
www.rainbowsilks.co.uk

FRANCE
H.Dupont
31, rue de l'Etoile du Matin
44600 SAINT-NAZAIRE
Tél : 02 40 70 11 10
Fax : 02 40 70 11 77
E-mail :  contact@h-dupont.com
www.h-dupont.com
GERMANY
Galerie Smend
Mainzer Straße 31
Cologne NRW
Germany D-50678
Phone: 0049.221.312047
Fax: 0049.221.9320718
Email: smend@smend.de
www.smend.de
North America
*     *     *     *
CANADA
ONTARIO
G&S Dye & Accessories, Ltd.
250 Dundas St. W., Unit #8
Toronto, Canada M5T 2Z5
Toll Free: (800) 596-0550
Phone: (416) 596-05005
www.gsdye.com
USA
CALIFORNIA
Dharma Trading Co.
654 Irwin Street
San Rafael, CA 94915
Toll Free: (800) 542-5227
Fax: (415) 456-8747
www.dharmatrading.com